POWERFUL SYNERGIES
CPS GROUP is a global industrial conglomerate originated in Italy from the synergy of well-established brands operating in the iron and steel business applied to heavy equipment for lifting applications. Innovative technology in steel fabrication, advanced manufacturing, integrated design, and engineering processes are forged in a profound passion for research and experimentation. Performative materials and leading-edge electronic systems are sharply improving the lifting performance, the speed, the capacity, the reliability and the flexibility of CPS GROUP lifting solutions.

UNIQUE INDUSTRIAL HISTORY
In 1860, we began our path to quality and excellence in Italy.
When PESCI settled in Ferrara, it combined experience in metal works, agricultural needs, and industrial vision. PESCI created the first hydraulic lifting equipment for the agricultural and transportation sector drastically improving agricultural mechanization processes. In the 50s, its presence in the Italian market as a major manufacturer strengthened thanks to a broader variety of loader cranes, marine cranes, and special industrial lifting applications.
With the know-how in advanced industrial manufacturing and a continued passion for performance and quality, COPMA established in Castel Bolognese 1958.
As a rising manufacturer of strong and powerful knuckle boom cranes, COPMA quickly acquired international recognition in the 80's thanks to the great passion for quality, high performance, and durability. In 2013, CPS, an innovative manufacturer of Hook Lifts and Truck Loader Cranes, added to CPS GROUP the know-how of faster load-unload cycles.
A HISTORY OF PERFORMANCE
Through research, CPS attained greater stress resistance and heavier load capabilities for tough sectors such as recycling, metal-scrap lifting, and forestry operational environments. CPS GROUP combines the highest technological advancements in engineering with a passion for research and experimentation. By using the lightest and strongest materials, coupled with an integrated electronic management system, CPS GROUP has significantly improved the lifting performance, speed, capacity, and flexibility of the entire lifting solutions. Through the synergy of COPMA, CPS and CPS STEEL in CPS GROUP, the company is the most competitive and comprehensive Italian steel and manufacturing brand for lifting equipment, able to provide the most competitive solutions for the toughest demands.
"TOGETHER
WE LIFT THE WORLD"
Erika Montuschi
CEO, 2021
1960

ITALY
CENTRAL EUROPE
COPMA
1970

SOUTH AFRICA
MIDDLE EAST
TURKEY
NORTH EUROPE
ASIA PACIFIC
SOUTH AMERICA
1980-1990

ISRAEL
NORTH AMERICA
NORTH AFRICA
2000

TECHNOLOGY
POWER
PERFORMANCE
STABILITY
2013

CPS
CPS STEEL
PESCI
COPMA
BUILD TO LAST
Thanks to a strong research in materials and applications we developed the most durable and resistant lifting and handling solutions specifically designed for heavy duty and a longer life cycle, better performance and success under every working conditions. Thanks to a fully vertically integrated value chain system, starting from the highest quality steels through the engineering and development phases of production, transformation, and assembling, CPS GROUP is reaching the highest European and international standards of quality, safety, and durability.
WE ENGINEER AND BUILD ALL OUR LIFTING SOLUTIONS IN CASTEL BOLOGNESE, BUT WE SELL WORLD-WIDE THROUGH A NETWORK OF DEALERS AND DISTRIBUTORS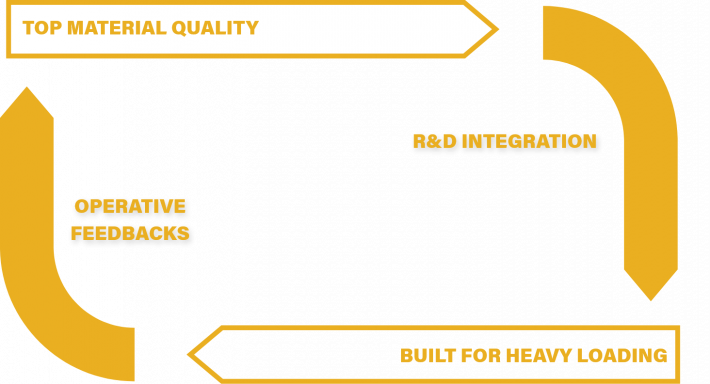 CPS GROUP
ENTERPRISE
We base our industrial group on the determination, passion, know-how, commitment to excellence, skills and team spirit of our managers, engineers, mechanics, and innovators.
CPS GROUP is fully committed to developing the most advanced, durable, reliable and competitive lifting solutions for the most demanding operators.
A deep understanding of different market needs, applications, and real heavy duty lifting services, together with the hard work of our operators and their goals, represents a direct approach in creating the best products in term of quality, performance, reliability, and competitivity in different sectors.