CPS STEEL IS A PROVIDER OF LEADING EDGE METAL FABRICATION ADVANCED TECHNOLOGY. WE PROMOTE INNOVATION AND PASSION FOR STATE OF ART METAL CARPENTRY SINCE 1978
CPS STEEL process about 3000 tons of steel yearly, from the structural steel S355 till the highest resistance steel S690QL, S700MC, S890QL, S900MC, S1100MC, S1100QL, the anti-abrasion steel H400-450-500. Over the primary sector of lifting equipment, CPS STEEL operates in the earthmoving segment, drilling, aerial platform, road machinery and so on.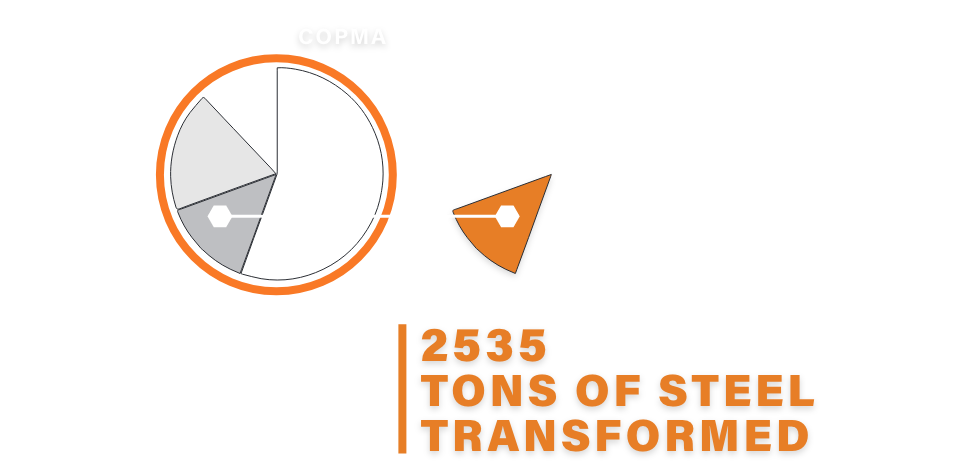 ADVANCED METALWORKS TECHNOLOGY
3000 Watt and 4000 Watt of power with cutting benches of 2000×4000 mm and 2500×8000 mm of maximum cutting dimensions till 15 mm thickness

Cutting bench of 3000×1200 mm and cutting capacity till 32 mm with bevel inclined cutting possibility

Cutting ench of 6000×20000 mm and cutting capacity till 250 mm
Maximum folding length of 6000 millimeters

Maximum folding length of 4000 millimeters

Maximum folding length of 4000 millimeters

Maximum folding length of 2000 millimeters
CPS STEEL has the know-how and the technical experience for superior quality in metal transformation, cutting, and assembling. The processes have high-efficiency and fast turnovers thanks to the synergy of third-party production with CPS GROUP's own production lots. CPS STEEL performs with flexibility and adaptability to the customer needs for full integration with the company production demands.
WE BUILD TO LAST
CPS STEEL PROVIDES A SUPERIOR ITALIAN ADVANCED ENGINEERING, COMPLEX MANUFACTURING AND UPSCALE QUALITY IN PRODUCTION YOU CAN TRUST
CPS GROUP is highly integrated, providing a complete manufacturing solution, including steel fabrication, plasma cutting, laser cutting, metal forming, oxy fuel systems and special machines for producing parts for a variety of industries.
UNLEASH YOUR FULL MANUFACTURING POTENTIAL AND REACH A HIGHER PRODUCTION CAPACITY WITH CPS STEEL.
POWERFUL SYNERGIES
CPS GROUP industrial unique strength is achieved with the powerful synergies of enterprises joined together for advancing processes for deep-technology and heavy-manufacturing. CPS STEEL provided the cutting edge tools for making an entire range of parts and products with the highest material standards, precision, and efficiency in the production cycle.